Testimonials
GUNG HO Restaurant, West Hampstead.
The whole resaurant was painted without the need to close, David painted between opening times or by sectioning off an area and allowing for business as usual.
Low odour paints were used and everything was always left tidy.
The results speak for themselves
"David repainted my flat in Sutherland Avenue, but it wasn't completely straightforward as there was a lot of making good of cracks and water leaks from the flat above. He took everything in his stride, and really took the time to pay attention to all the details. In the course of the job, we discovered some other things that needed doing that weren't apparent when David first quoted. He flagged everything up to me and provided quotes for the additional work before undertaking anything. The result? My flat looks absolutely gorgeous. The care and attention he put in is shining through. I love it and can't recommend him highly enough."
Lisa - London W9, March 2018
"I needed my tired looking flat repainted and was lucky to have found David to do the job as I'm very happy with the result. David repainted the whole flat including woodwork and doors, working tirelessly during the summer heatwave. He was completely trustworthy, decent, honest and reliable and looked after my flat during the week whilst I was at work. He also has lots of knowledge and creativity and offered ideas on the decor and furniture. Highly recommended."
Carolyn - Willesden Green, September 2017
Thank you for all your great work- LOOKS AMAZING. And no lingering paint smell either. Thanks again, Alison
Alison in Crystal Palace, August 2017
'It was lovely to return to such a smart looking flat. I am so pleased with all your work. Great results! Its been a pleasure having you and I hope to see you again in the future. Thanks Claudia
Guy and Claudia, Fermoy Road , London W9 January 2016

Testimonial after wallpapering stairwell:
'Great ! Don't think I have fully expressed how much I Love it !!!
You've done a perfect job, thank you
Jess of Crossway , Willesden December 2016

This is my Testimony for the work David did in my flat. He is most professional, perfectionist , honest, with integrity and his time keeping is beyond anything I have seen in years. He is { One man band } who is very conscientious and goes beyond call of duty to oblige and do small favours. I am very fortunate to have met him.
Nora Amerikas August 2014
"We needed a long basement hall with several doors and staircase in a Victorian house painted and given some TLC. We found the standard of David Flanagan's work to be very high. It was very thorough. We found David honest and a man of fine principle.  He is hard working with an accomplished skill level and takes no short cuts.  He is very personable, gives helpful advice and his costs are not unreasonable. Our only hesitancy in writing this recommendation is in thinking that the demand for his services might increase even more, making it difficult for us  in the future to procure his services! In brief, David  has been a pleasure to employ. Unhesitatingly we would recommend
his services to anyone.".
Philip and Christine M.   Camden NW1  November 2013.
We recently hired David to spruce up the front of our home, which he did  with care, giving a new lease of life to some rather old doors that  were particularly in need of some TLC.  We were really pleased with the results and we now feel inclined to soon get to grips with some further internal redecoration, in which case we will definitely call on David.
Ann & Solly Deedat, Willesden Green - October 2013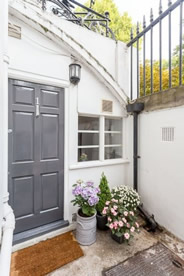 "I would absolutely recommend David – we contacted him to carry out some repairs and decorating to our property just before we put it on the market.  The work was to a really high standard and he was trustworthy and went out of his way to do a great job.  In particular, David did a fantastic job on our front door which looked a bit worse for wear , and also to our original sash window, both of which are now real selling points for our property!  We would definitely use David again in our next house".
Anita & Tristan, Bayswater W2 - August 2013
Looking to have redecoration of half of my modest-sized house, I found David was well-organised, trustworthy and totally professional in his approach. A consultation prior to work commencing ensured there was complete understanding of the work to be done between him and myself. The work itself was conducted in an efficient manner that meant minimum disruption to myself. Everything was completed on time for a rather tight schedule.
I am really happy with the quality of work and standard of finish; so I would certainly recommend David for similar jobs as I intended to use his services for "phase two".
Keith – London NW1- May 2013
"We hired David to repaint our ceilings after a leak. He was friendly and professional throughout the process and extremely tolerant of our little boy who was very inquisitive about the painting! David completed the work on time and the painting was done to a very high standard. David was a pleasure to have in the house! Thank you!".
Emma Dunne of Kilburn.
"Thanks David. It was great to have someone so honest, thorough and thoughtful on the job. You were a pleasure to have around and we would recommend you to anyone."
Melanie McGrath journalist and writer
"We recently employed David Flanagan to decorate our new house, having heard about him from a friend of ours. The service he provided was not only well done but also very efficient and completed within out time schedule. Davis suggested some good ideas and techniques, recommending colours etc and also gave us a very competitive price. During the decorating work, my husband and I went on holiday and completely trusted David to carry out our instructions as well as looking after our house. When we returned, our home was spotless.
For anyone looking for a job well done with creative flair, David Flanagan is the one! "
Nicole Rose - London W9
" A big thank you to you David for your efficient and professional painting and decorating services rectifying our bathroom walls, tiles and celing caused by roof leakage. You advised us well in your quotation exactly what needed to be done. You where punctual and worked swiftly yet very neatly and the bathroom looks beautifully bright and the paint work looks flawless. I am very impressed and recommend you and will definitely use your services again. Good value for money! Thanks"
Mahira of Wembley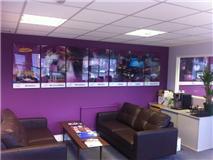 "David was the only individual sorry enough to actually deign to quote for our office refurbishment, so I felt a little guilty when we had the temerity to tell him that the job was his if he would knock 10% off. which - incredibly - he did. When he arrived it was a joy to provide him with tea and biscuits, whilst he regaled us all with tales of his illustrious past, he even did a little painting. Being aware of an immutable deadline, he worked all the hours needed, brought in extra staff when his brief was expanded beyond the original specification and we were able to open on schedule with offices that well met everybody's expectations. Since opening, the presentation of the offices have been much complemented, for which praise must be given to Mr Flanagan. We wouldn't go elsewhere in future."
Stephen Connolly, General Manager, SSE Audio Group Limited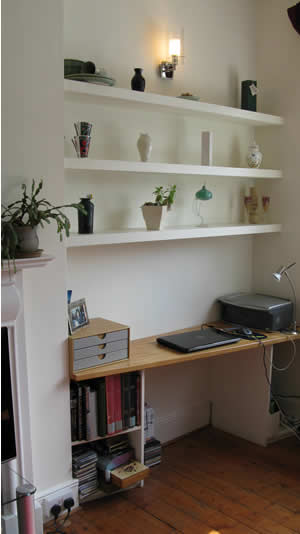 " David has undertaken different decorating and project work in my flat on four occassions over the last three years. He works in partnership making creative and sound practical suggestions about what would look well, enhance - or simplify areas for improvement. I have always found David to be skilled, reliable and courteous. In addition he is knowledgeable about linked trades, really helpful when other trades are needed to support a project; David project managed design/installation of a new kictchen into an apparantly impossible small space in my flat and it looks great. David's quotes are detailed and specific and I would use him without hesitation again."
Ruth, Willesden Green.
"Thanks for your good work, so neat and efficient. The flat looks fresh and bright. Have a great year"
Susie of Susie Joyce Designs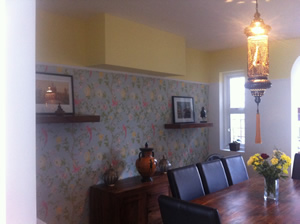 "Many  many thanks for all your hard work and precision in making our humble home our very own 'Alhambra' ! !
It was a great pleasure learning so much from you, and sharing stories and experiences.
We look forward to working with you again in the future.
Feel free to take pictures of your good work for your portfolio".
Susan and Bhoopat, Kingsbury, London NW
" I have known David for 30yrs and can say he is always willing to help with good advice on all decorating and interior design, always quick and clean workmanship, a pleasure to have in your home".
Mr Davis of Parsons Green
"To say that David did a fantastic job would be an understatement. The job was completed well within the time and came in within budget."
Racheal Gof, Burberry Group plc .
June 2015